About NIHON HOUSING
During a long relationship with customers that has lasted nearly sixty years since our establishment, we, Nihon Housing have managed a number of condominiums within Japan. Our industry-leading business accomplishments are testament to the conduct of each and everyone of our employees, which is based on the company's three philosophies. Our mission is to be closer with our customers and continue to support the creation of safe and comfortable residential environments.

Business Domain
Nihon Housing's greatest feature is that it is an independent management company. We listen carefully to the opinions of our customers to provide the services they desire. With hands-on approach, we make the best possible use of the rich knowhow we have cultivated for all buildings built by whichever developers, to provide management services that are in perfect alignment with the scale and characteristics of each building.
Apartment management business
Office management duties
Janitor duties
Cleaner duties
Building facility management duties
Other service duties
Building management business
Cleaning duties
Facility management and maintenance duties
Security duties
Value-improving construction works
Real estate management business
Rental condominium management agency
Property management
Sub-leasing (package leasing system)
Property sale and brokerage
Construction work
Large-scale repair works
Building inspections and diagnostics
Daily repair work
Long-term repair work and the creation of funding plans
Reforms and renovations
Company information
Nihon housing has the vision of contributing to social development through building a safe and comfortable living environment. We always put the voice of our customers first, and thinking, acting, responding to build a creative working and living environment.
We have been working closely with our customers to enable us to achieve a comfortable living environment while listening to each individual's voice. Our stance of moving with customer requests for lifestyle as our top priority is an important guideline for corporate management that is not shaken by time, and is inherited by every employee. These ideas have been reflected in consistent services from integrated management of apartments and buildings to rental and mediation of real estate and repair work. We will continue our commitment to living responsibly for many years to come. We are steadily advancing toward the future together with our customers as a housing and office environment creation company.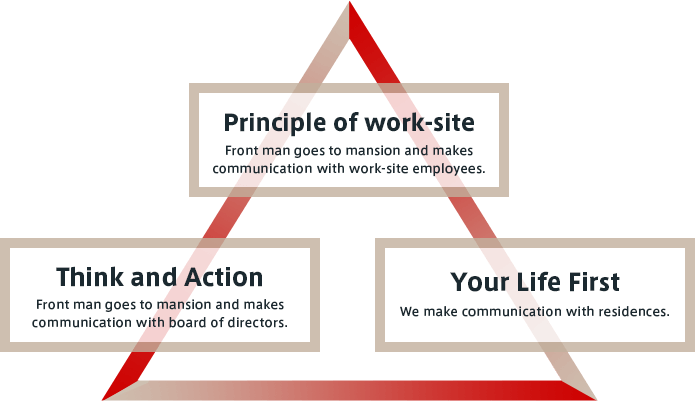 Symbol Mark

The condominium life is enveloped in warmth of hands and expresses the trust of the people facing each other.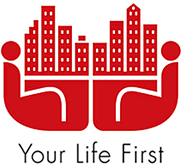 Company Overview
Name
Nihon Housing Co., Ltd.
Address
1-31-12 Shinjuku, Shinjuku-ku, Tokyo
Founded
December 1958
Established
September 1966
Capital
¥2,492,900,000
Amount of Sales
1,4 billion Yen (Consolidated fiscal year ending on March 2023)
Representative
President & CEO: Utena Osano
Business Contents
Condominium Management Enterprise
Building Management Enterprise
Property Management Enterprise
Maintenance Work Enterprise
Number of employees
5,710
(Full-time employees: 2,131 Contracted employees: 3,579)
(31st March 2023)
Number of Buildings under management
Mansion 10,288 buildings 489,666 units
Building 582 buildings
Rental apartment 1,209 buildings
(31st March 2023)